Key Features
Automatic Lead Addition
Leads that are sent to your email inbox can be automatically entered into Tinsel, ensuring no leads fall through the cracks!
Proposals
Set up your catalog with all of your products and pricing to allow you to create detailed proposals in just a few clicks!
Invoices
Once a client accepts a proposal, quickly send invoices, and accept payment instantly!
Easy Scheduling
Quickly schedule Installations, Maintenance & Removals. Easily assign crew members to each task so they can see their entire day in their own employee portal!
Effortlessly Track Inventory
Never run out of Warm White C9 again! Always know how much product you have on the shelf so you know when to order more, or keep on selling!
Employee Portal
Employees can clock in/out, see their schedule for the day, and see pertinent information about the jobs they have on the schedule.
Proposal

Invoice

Inventory Prep

Installation

Bases

Removal

Reviews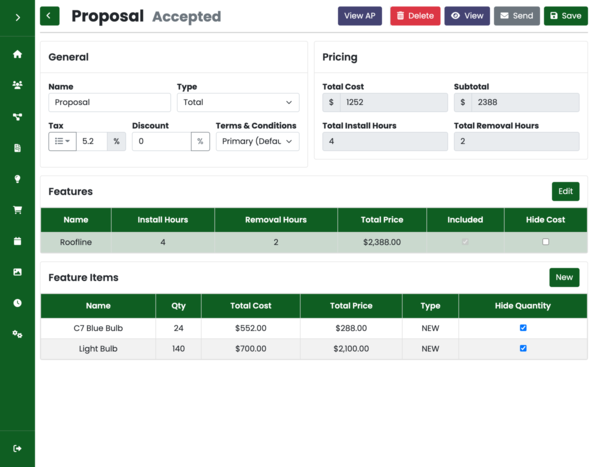 Project Proposal
Creating project proposals is as simple as it gets! Add features (roofline, shrubs, trees, etc.) and feature items (the materials needed to complete each feature) in just a few clicks!
Invoices
Once a proposal is accepted (by either you, or a client) invoices are automatically generated! Send it out in just one click and get paid immediately!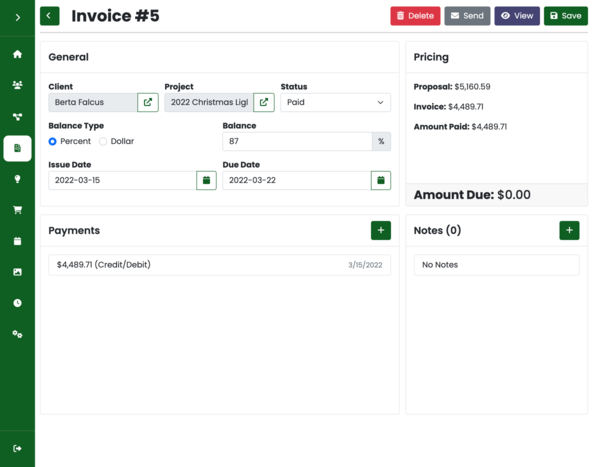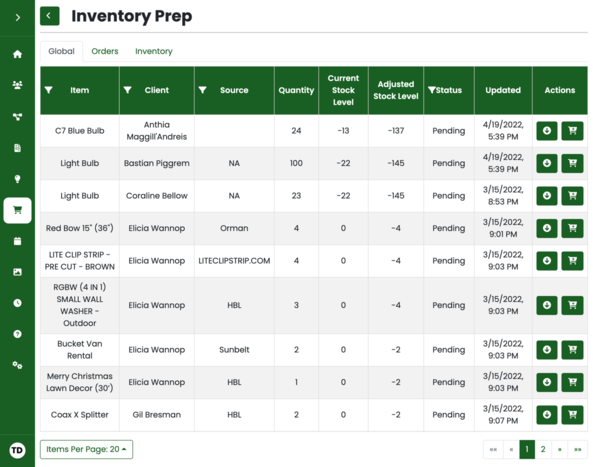 Inventory Prep
Need to know if you have all the materials for a job in your warehouse or if you need to place an order for them? We got you covered! Tinsel's advanced inventory tracking system makes this step a breeze! Whether you need to pull from inventory or order from your vendor, it's all tracked right here!
Installation
Assist your installers as best as you can with all the right details for the installation! Photos, notes, and all the materials needed are listed right here for your installers to see in their own Employee Portal! Bonus: track "actual" VS "Estimated" products used!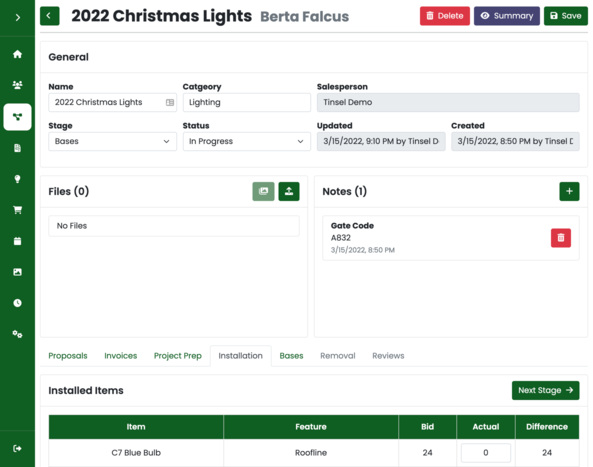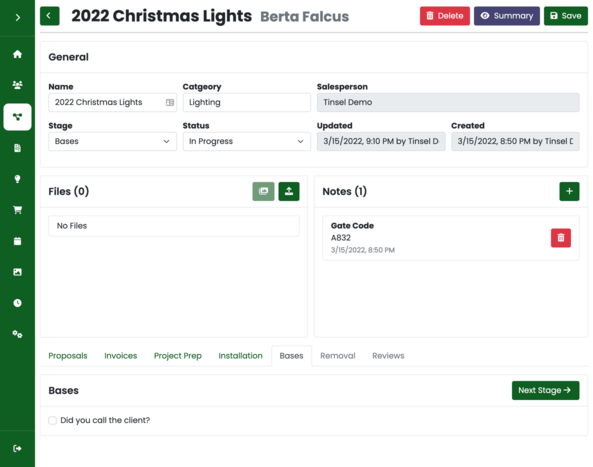 Bases
'Client Experience' is one of the most important parts of our industry. We need to make sure our clients get everything they need. That's why we created Bases: a customizable checklist your office staff can use to make sure your client is happy!
Removal
Removal: the reason most other CRMs fail to meet the needs of the holiday lighting industry! Scheduling removals, tracking which customers are already removed and which customers need to be removed next, is all a breeze in Tinsel! Remember: we designed this with Holiday Lighting Installers in mind!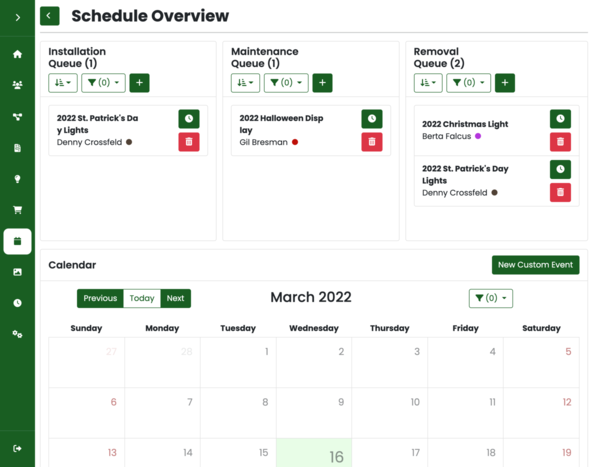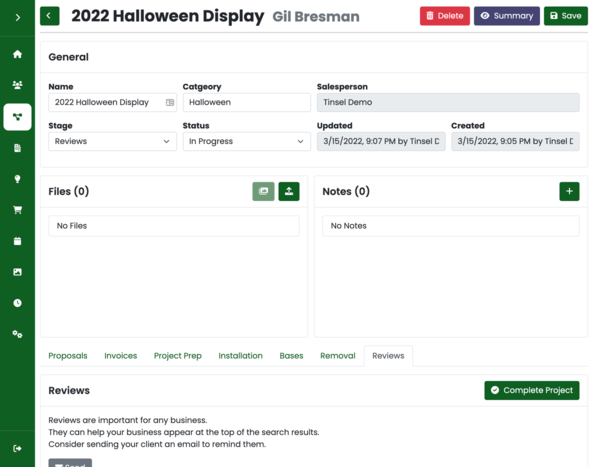 Reviews
One of the best tools we use to gain business is reviews With the click of a button, fire off customized review requests to get your clients talking about YOU! We all need credibility to gain customers and having great reviews is the best way to get it!
Employee Portal
Give your employees to access important information, tools, and resources that they need to do their job effectively.
Schedule

Time Clock

Summary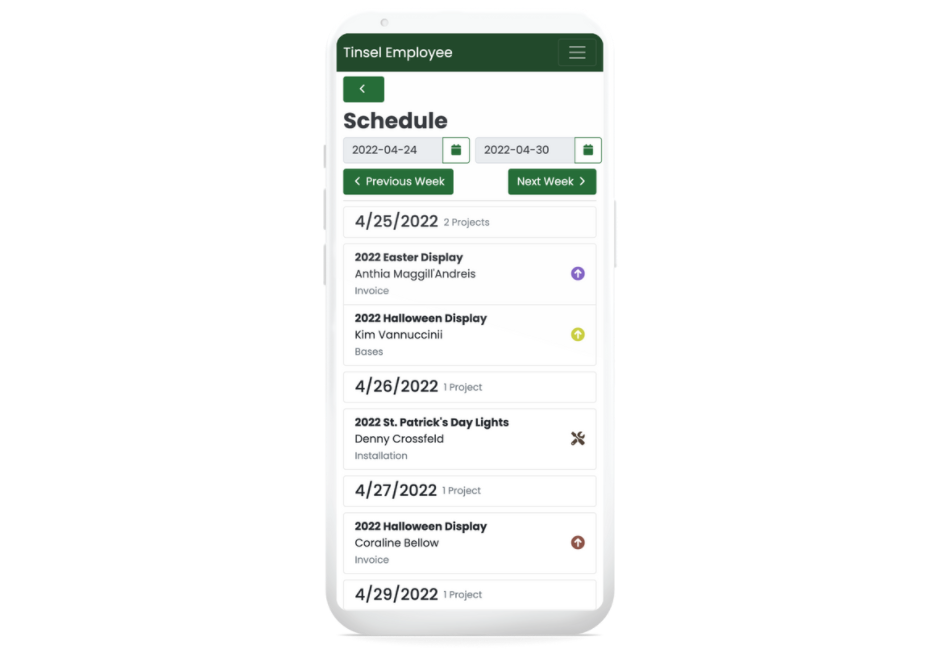 Each employee will see their own schedule when they log in!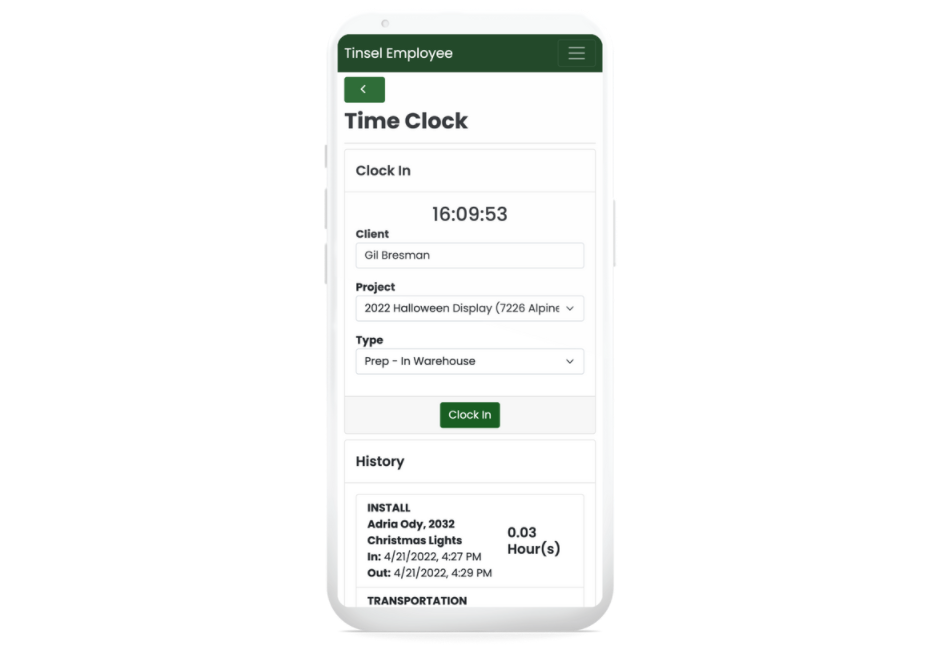 Employees can log in to specific projects and stages of the project (installation, removal, etc.) making your time tracking a step above others!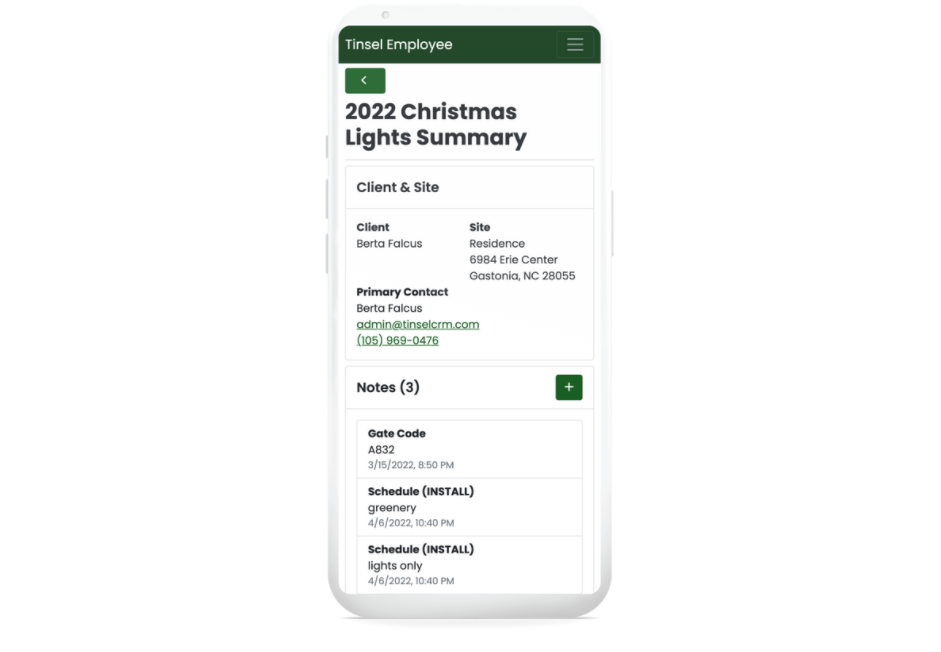 Employees don't need to see EVERY detail about a client. With the summary, employees get to see all of the important information, like job location, photos, and which bulb colors are needed for the installation, without seeing private information like how much the job costs and how your client is paying you!
Monthly
$89
Per Month
Maximum 10 Users
Additional users $7.50 per month
Pay as you go,
opt out anytime!
Annually
$828
Per Year
Maximum 10 Users
Additional users $7.50 per month
Save $20 per month
by paying annually!